"Every human's most noble delight is if she or he can do something of which purity she or he does not doubt. Nor during the deed, neither after the deed. The bird and the warmth have wings and freedom, while the human has only one homeland and many obligations."
Áron Tamási
Deeply honoured visitor!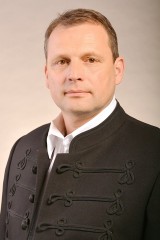 With this motto I greet every dear virtual visitor on the homepage of Szentegyháza town of which primary aim is to provide useful and interesting informations to all of them who are in interest. First of all our homepage is for local people who we would like to inform about public life, economical and cultural events.
The second most important purpose of the homepage is to make Szentegyháza be well known and attractive to the world, achieving to have more virtual visitors to pay their duty to us, experiencing the local people's hospitality.
Szentegyháza lies more than seven kilometres along the creek in an S form at the foot of the central strata of the Hargita mountain in Hargita county, Transylvania. It is the only settlement in the area of the Kis-Homoród - a smaller region in Szeklerland - which has urban rank. It can be found midway between Csíkszereda and Székelyudvarhely on the 13A national road, on 850 metres high from the sea level. Sparkling cultural life waits for those who come here. We who live here believe in the invigorating, community forming strength of the traditions which have high priority to be attended and transmitted. It is a very important task of us. I encourage everybody to visit us, take part in our festivities, taste our gastronomic specialities, mineral waters, experience our hospitality.
I wish all of you good browsing, memorable impacts and pleasant time for those come here personally!
Tibor Molnár
Mayor of Szentegyháza town